Call for Participants, Host Organizations and Sponsors- 2018 International Exchange Program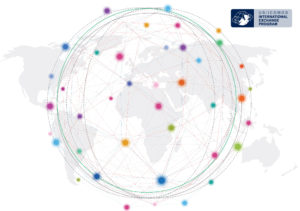 US/ICOMOS is pleased to announce the call for applications for participants, hosts and sponsors for the 2018 International Exchange Program (IEP).
US/ICOMOS is seeking graduate students and those new to the heritage profession (1-3 years of experience) specializing in historic preservation and heritage conservation to participate in the 2018 IEP. Participants will be assigned practical working internships, under professional supervision, with a public or private nonprofit preservation organization. Internships for U.S. citizens are in other countries, organized in many cases in cooperation with the local ICOMOS National Committee. Internships for non-U.S. citizens are placed throughout the United States. US/ICOMOS carefully organizes and manages the 12 week program from its Directorate offices in Washington, DC.
Positions are for interns with a bachelor's degree (at a minimum) in a preservation or conservation-related field: architecture, landscape architecture, cultural resource management, materials conservation, interpretation, history of architecture, archaeology, industrial archaeology, public history or cultural tourism. The selection process for the US/ICOMOS IEP is highly competitive; approximately one in five applications is successful.
US/ICOMOS is also seeking hosts and sponsors for the 2018 IEP. More information on the 2018 IEP can be found here. Support for the program can be made either through a host placement, a sponsor donation, or both. More information will be available at the upcoming US/ICOMOS Leadership Forum and Benefit from 29-30 November in Washington, DC, and at the 17th ICOMOS General Assembly in New Delhi, India, from 11-15 December. Should you be unable to host in 2018, but want to support the IEP, donations can be made at www.usicomos.org/donate and select 'Contribute directly to the International Exchange Program.'
For more information, visit our Internship pages at http://www.usicomos.org/internship. The deadline for applications for participants is 15 January 2018. The deadline for applications for hosts is 5 February 2018. There is no deadline for sponsorship contributions.
Please direct questions via email to:
Brian Michael Lione
Member, Board of Trustees and Chair, International Exchange Program Committee
IEP@usicomos.org